slave marsha says...
As a femme leatherdyke, I have looked high and low for leather/SM fiction that speaks to who I am. While I have found a story or two, no author I have found consistently creates characters who look like -- and have sex and SM like -- the women I love and lust after in the leatherdyke community...
until now
.
Harley: the Story of a Leatherdyke and Her Clan
by *Sage* is a welcome addition to the world of leather/SM fiction for anyone who loves butches, femmes and the kind of hot SM that is uniquely leatherdyke."
~ marsha...slave to Master Jim
International Master and slave 2001
babygirl and life partner of Sir Cougar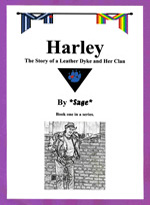 Harley: The Story of a Leather Dyke and Her Clan
by *Sage*
Karen Coyote Song, a small town girl from the Lakota Reservation, is relegated to online chat rooms to get a taste of her kinky passions for SM and D/S. Then one fateful night, her quiet life is shaken up when a hot butch lesbian Dom roars up to Karen's little truck stop diner. Master Harley takes Karen on a journey into her deepest desires - to be Harley's lover and to live as Her slave. Harley enlists the help of Her longtime dyke boy Jesse, a switch, who is given the task of conducting Karen's slave training. What happens next will force Harley to confront long held ideas about what it means to be a butch. During it all, Master Harley, Jesse, and Karen find time for a generous helping of love, passion, and sizzling hot leather-sex.
Book One of the Harley Series.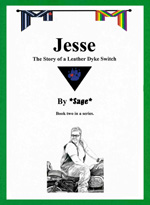 Jesse: The Story of a Leather Dyke Switch
by *Sage*
Master Harley's leather clan continues its deliciously wicked adventures. Jesse takes on her first full time slave, a butch boy named Sam, finally accepting the full mantle of Masterhood with all its privileges and responsibilities. The clan lives and plays peacefully, not realizing they are on a collision course with calamity. Will their love be strong enough to pull them through? Will their leather lifestyle help or hinder this dyke family's recovery? Share in the passion and scrumptiously spicy sexual adventures of Master Harley, Jesse, Karen, and Sam as they navigate life's twists and turns.
Book Two of the Harley Series.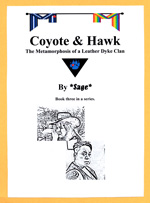 Coyote & Hawk: The Metamorphosis of a Leather Dyke Clan
by *Sage*
Master Harley and Her leather family come to life once again as they deal with a whole new set of issues and adventures. When a strange box arrives from Karen's mom, Karen takes Harley and Jesse on a journey to her past, and introduces them to her first love, Lone Hawk. Why did Hawk disappear so many years ago? What is the pull Harley feels towards a woman She's never met? What effect will Hawk have on the lives of all three partners as they get to know her through Karen's stories? Join Master Harley, Jesse, and slave Karen once again as they traverse life's twists and turns, all the while having some of the most deliciously hot and kinky escapades imaginable.
Book Three of the Harley Series.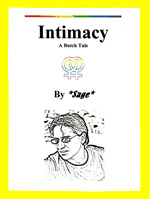 Intimacy: A Butch Tale
by *Sage*
Kat Orozco – The King of the Don Juans – that's her own self-description, and she's damn proud of it. Her #1 cardinal rule…never lay the same chick twice. She's a hard ass alright; a selfish, thoughtless stone butch bitch only out for her own carnal gratification. What happens when that wall starts getting chipped away? Could one smart and wily femme actually capture her attention... and possibly her heart? A deep, internal look at what drives one stone butch...and the struggles she faces to change the equation.
From the text: "...there was no denying those parts of Kat that made her so desirable, that caused women to flock to her, to hunger for her touch, her kiss, her cock. It wasn't just her hot butch body, winning smile, or her incredible flair in bed. It was her ability to make a woman feel, for that fleeting moment, that she was the most important person on Earth; that she was Kat's everything. Of course, none of them were."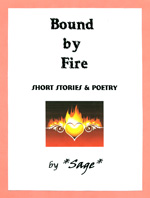 Bound by Fire: Short Stories and Poetry
by *Sage*
A young dyke's first experience in the world of BDSM as she makes her long time fantasies a reality. A Mistress and her submissive's first time at a BDSM play party. A special night in the woods between lovers. The first meeting when online becomes real time. A train ride with twists and turns that have nothing to do with the tracks. An older butch reconnecting with her BDSM passion after years away from the scene. These vignettes of life in the BDSM scene are just some of the stories written by *Sage* over the years. The author of four BDSM novels, *Sage* has now collected all her shorter writings, from prose to poetry, and offers them as an anthology of her writing over the last eighteen years.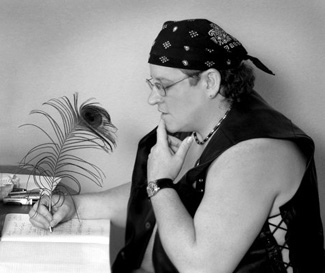 The Author, *Sage*


Photography by Deborah Torres
"Too often, BDSM erotica is filled with bad writing and stereotypical characters. Filling a long-empty void, Sage's books offer well-written, realistic depictions of the BDSM world, with intelligent, three-dimensional characters and solid plot development. This is not to imply that the series isn't exploding, bursting, dripping—fill in whatever sexually-charged metaphor works for you—with steamy BDSM sex. Sage's books vacillate seamlessly between touching love story, and touch-yourself hot erotica. If you're into BDSM, or are BDSM-curious, these books are page turners—provided you're careful not to get said pages sticky. Even if you could do without whips and chains, the books explore themes central to all humans: the painful struggles and humbling growth of loving someone, and the challenges of accepting the various, often contradictory parts of ourselves."
~ Reviewer Julia Day
February 15, 2006
Mom Guess What Magazine
"A powerful and dynamic look into the erotic world of BDSM.
Harley: The Story of a Leather Dyke and Her Clan
hooks you early and keeps you mesmerized within this intimate, erotic and memorable portrait. The book rings with distinctive and realistic characters that make readers feel they've entered the seductive world of BDSM. *Sage* has a command in language and queer erotica unmatched in recent years. Definitely a must-read!"
~ girl hayden
2004 San Francisco Dyke Girl
"
Intimacy
is a GREAT story and finally it rings true. Thank you, Sage, for honoring non-monogamy and love that is differently defined. It is wonderful to see characters with a happy healthy relationship that isn't squoozed into traditional heteronormative boundaries. Thank you for a great story of growth and hope. Thank you!!"
~ Venus